Search Engine Optimization
Ethervision Search Engine Optimization Services
Ethervision helps your business rank highly on popular search engine results pages in an effort to improve your company's online visibility and gain more validated sales leads. We offer affordable search engine optimization (SEO) services that will help generate more website traffic for your business so you can improve your customer base without breaking the bank. Since 2008, our Chicago SEO experts have been creating successful campaigns that produce impactful results for our clients.
Using Search Engine Optimization to Grow Your Business
When search engine optimization is done right, you'll energize your brand and improve your keyword rankings in popular search engines like Google and Bing. Over time, this will help you grow your business and appeal to more customers. Ethervision is a full-service SEO agency that specializes in digital marketing, search engine optimization, social media marketing services and beyond. Our dedicated team of SEO experts make sure you get the most out of your SEO efforts by enhancing your online visibility and helping you grow your business. Some ways that SEO helps to grow your business include:
Higher Organic Traffic

– the more people that visit your website, the more opportunities for you to convert visitors into customers.
Stronger Conversion Rates

– when you have a higher exposure, you're going to see more conversion rates. While more people might decide to leave your site, there will also be more people who finalize a transaction.
Validated Sales Leads

– SEO helps you to create more qualified leads by targeting people who are looking for your products and services.
Targeted Local Search Optimization

– local SEO services increases your visibility to people in your geographic market. The higher you rank on Google's local map pack, the more business you'll see from your community.
Improved Mobile Optimization – your website isn't going to see success if it's not optimized for mobile devices. Since over half of all search engine queries are made from phones or tablets, you'll have an advantage over your competitors with a responsive site design.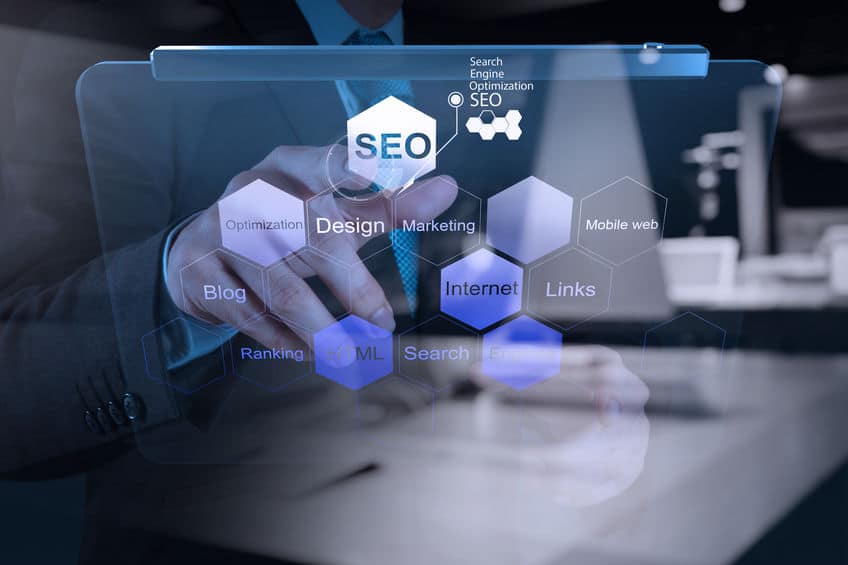 Ethervison's SEO Services Process
Organic search engine optimization is the cornerstone of a great online marketing strategy. While paid advertising allows you to reach a certain audience, you only get what you paid for. With professional SEO services, you'll reap dividends, reach new customers, and strengthen your online presence for years to come. Ethervision is committed to giving you results that matter with unparalleled transparency and continual communication.

Before we get started with SEO research, we believe it's essential to learn your business thoroughly. By understanding your key differentiators and advantages over other companies, we're able to create targeted approaches to optimization. Ethervision's personable approach allows us to create custom SEO solutions specifically tailored to your company.
Relevant Keyword Research

A
fter working with our clients to better understand their company, mission statement, and their long-term goals, we begin our keyword research. We start by looking at what keywords you're currently ranking and compare them to your competitors. It's important to take advantage of strategic, industry-specific keyword use to effectively grow your page optimization and search engine rankings.
research story, keyword and video ideas important to your industry.
Content Marketing Development

The next step is developing quality, long-form website content. Short articles that are only written to produce a meaningless blog will do nothing for your SEO efforts. You need long articles, videos, and images that are helpful, authentic, and relevant to your industry. By creating content that's optimized with your keywords, you'll
improve your user experience
and appeal to search engine algorithms.

If your website isn't fast, you're going to lose a lot of customers. SEO strategy not only focuses on what your customers see, it's rooted in creating the best web design user experience possible. That means fast, responsive websites that look good across every device. Our SEO team works to make sure that your website is coded properly for technical SEO and search bots.

G
reat content creation and strong back-end development will take you far, but you still need to show search engines and your audience that your company is legitimate. By utilizing off-site SEO strategies like high quality link building, you'll improve your company's validity with links from reputable websites with high authority ranking. This
allows your company footprint to grow exponentially
.

SEO is a dynamic industry that requires persistency and consistency for substantial, long term search results. While it may take a few months to see efforts pay off, an SEO campaign is well worth the wait. Ethervision is a top-rated SEO company that's dedicated to improving your online presence and helping you grow your business. Our team of Chicago SEO experts are proactive in both on-site and off-site optimization and want your company to succeed as much as you do. We're passionate about our clients and do whatever it takes to get you the search results you need. To learn more about Ethervision, or to get a quote for your next search engine optimization project and needs, contact us today at 312-870-0080.