Mobile Application Development
Mobile Application Development Philosophy
From the beginning, Ethervision has been heavily involved in mobile app development. Having developed three of the first 50 apps for the launch of the Apple App Store in 2008, mobile app development is at the core of our business. Since then, our mobile application development company has created over 250 applications for both Android and iOS operating systems, and we've been featured on the home page of the Apple and Android App Stores 27 times over the years. The apps we've built for our clients have been downloaded over 20 million times. Ethervision is a mobile app development company that focuses on android and iOS app development.
Mobile App Development Process
At Ethervision, we're committed to making best-in-class mobile applications for our clients. We focus on creating an effective and convenient way for you to connect with your customers and employees. Our apps can be used across iOS operating systems (iPhone, Apple TV, iPad, etc.) and Android smartphones and tablets. Our mobile development process includes a proactive, customized approach that begins at the very first meeting and continues through analyzation and further optimization.
Ethervision offers a deep-rooted experience that translates to final technology products of the highest quality. We help you showcase complex functionality in a simple, enjoyable way that allows for immediate end user productivity. Ethervision is home to one of the top native mobile, cloud, and web application development teams in the world, so if it can be built, we can do it. Our mobile app developers treat every app and system as if it were our own and we always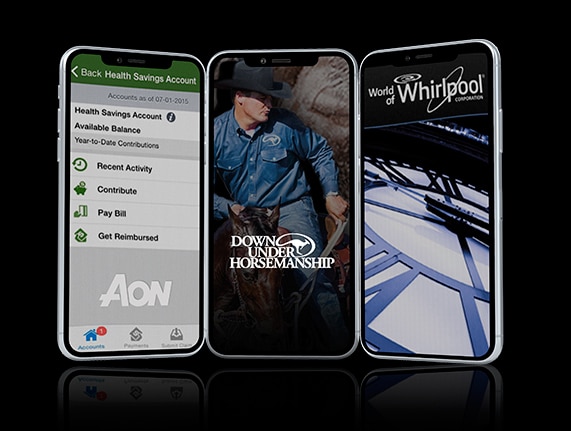 Mobile Application Development FAQ
If you're new to mobile app development, things can be a little confusing. A lot of people understand the importance of having a mobile app, but how it's made, what the process is, and how much it costs are common unknowns. To help ensure that your expectations are clear and you're confident with your choice when choosing a mobile app development company, here are some commonly asked questions:
Why is Creating a Mobile App Important?
Creating a mobile app is more important than ever as an increasing number of people are using their smartphones to browse, shop, connect, play, and watch. The average person spends over 4 hours a day in mobile apps and over 80% of time spent on smartphones is done through apps. As more people begin to switch to mobile-only Internet users, apps become increasingly important. To make sure you're reaching your target audience, your business needs to have a mobile-friendly experience and develop a top mobile app. 
How Should I Choose Between Android and iOS App Development?
Since mobile applications vary based on operating systems, you'll need to take the time to consider your target audience. While many app development companies opt for both Android and iOS mobile app development, if you're just starting out you may want to try a test run first. There are some options that allow for mobile apps that function across different operating systems, which can increase cost and production time.
What is Price of Mobile App Development?
Staying within budget is important for companies to succeed, which is why cost of mobile app development is usually one of the first questions. However, every company will have different needs, which in turn creates different pricing structures for app development. If you're interested in getting a customized quote, we recommend reaching out directly. At this time, make sure that your goals are defined, your needs are communicated, and you express which features you want to include.
How Do I Choose a Mobile App Development Company?
Choosing the best development company for your needs depends on a few factors. You should look for someone who is experienced and well versed in mobile app design. You'll also want a company who can deliver what you need within your expectations.
How Can I Find the Best Mobile App Development Services?
As mobile application development continues to grow, more designers and companies are appearing. Finding the "best" is often subjective, so we recommend finding someone who upholds a specific set of qualities. Make sure that the designers at your chosen mobile app development company work with a collaborative style and have a good reputation with trustworthy reviews. Reach out to companies who specialize in what you're looking for and ask them questions. You want to have a good relationship with your mobile app developers, so take the time to contact a few and see who you like best. At the end of the day, if their work is reflective of their costs, the choice is up to you.

Ethervision is an experienced mobile and software development company that's been around since 2008. There's no app or technology that we haven't employed, and we tend to get projects that other companies simply can't solve or finish. From e-commerce to full multimedia social networks and 3D games to product demonstrations, we can build anything. Mobile apps are where it all began for us and they continue to remain at the forefront of our business. Reach out today for a free consultation and see how we can combine your vision and our experience to develop a final product that's better than you could imagine. To get started, contact us today at 312-870-0080.