Best in Class Software Development
Fusing custom software development and analytics with digital marketing
to accelerate company growth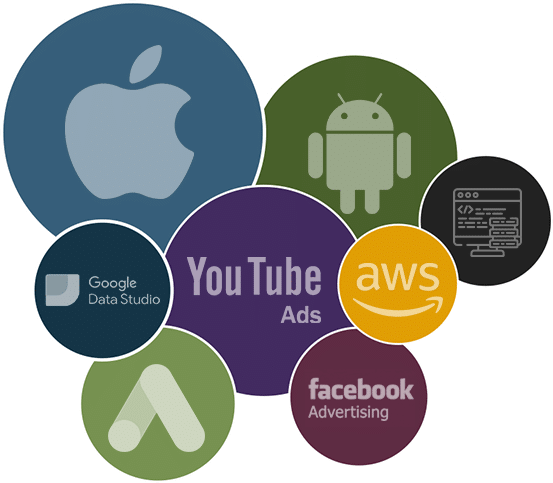 WEB & MOBILE APP PLATFORMS WE SPECIALIZE IN
Our Philosophy
Ethervision's roots trace back to 2008 and developing 3 of the first 50 mobile applications for the launch of Apple's App Store. We very successfully marketed these apps and have over 30 million downloads and 27 apps features by Apple and Google. As we worked more intimately with our longstanding clients, our services evolved in order to fully support their growth.
This evolution can best be summed as the perfect blend of technology and marketing services specific to each client's needs. Our boutique software and mobile application development company is best in class and can develop any custom solution from scratch and/or streamline your existing systems. When you combine this with customized analytics specific to each client's KPIs and a full suite of digital marketing services, you get a company that can cut right to the quick of making and saving you money…Big Rocks First!
Most importantly, what sets us apart is our hands-on, personal approach to you and your business. We work with our select list of clients for the long-term, proactively collaborating, implementing, testing and measuring tech and marketing solutions so you can sleep well each night knowing you have a Chicago software and digital marketing company in your corner that is thinking about ways to grow your business as much as you do. Ethervision is a mobile app development and digital marketing agency, offering the blend of services that makes the most sense for each customer. They helped us take a simple web design idea, which likely wouldn't have gotten a lot of traction, and turned it into something that's become the hub of our company.
Ethervision's been completely focused on customer service from day one, and their results speak for themselves.

Our lead developer and marketer learn your business in tandem using a common sense approach of listening and asking detailed questions.

Depending on the project, we collaboratively lay out a roadmap and/or wireframes for any system and marketing plan being developed.

This is where rubber meets road and our development and marketing teams get the system, marketing and custom analytics into place sending you builds to test along the way.

We launch the system, marketing and analytics when we all agree it's ready.

Maintenance and Improvement
Systems and goals are always evolving. We maintain the systems for our customers and use custom analytics to define new opportunities.
If you feel Ethervision would be a good fit for your software development project and mobile app needs, reach out to us. From the very first call you will see why our customers come back to us for more and more work.
Ethervision
401 N Michigan Ave #1200
Chicago, IL 60611