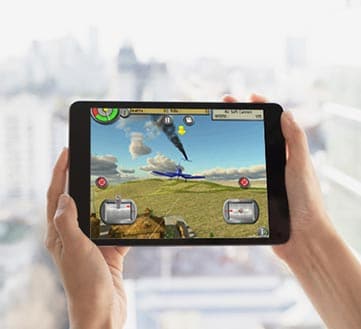 Brief
RC Plane is a global phenomenon with over 20 million downloads internationally in over 100 countries.  Ethervision created a fully, 3D landscape and game based on real Radio Control Planes and Helicopters.We then took our 3D skills and developed immersive 3D applications for complex products for big medical companies so full usage and functionality could be shown without having to lug an 800 pound bed:)
RC Plane was a labour of love and made us one of the premier 3D studios in the country.
Over 20 million downloads

30 planes and 10 full environments

Custom built online leaderboard

#1 Ranked iPad App in the World (#5 for iPhone)

Featured by Apple or Android 3 times on Homepage
Online scoreboard and custom social platform
How can 3D help your company?
8 years later, the RC Plane games are some of the most popular in the category.  We have since gone on to build for Oculus, Android devices and Steam.
If you feel Ethervision would be a good fit for your project and needs, reach out to us. From the very first call you will see why our customers come back to us for more and more work.