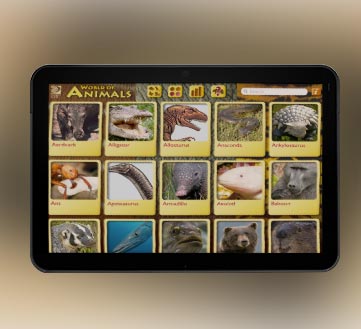 Brief
Ethervision built a wholly immersive and interactive animal mobile application experience for the iPhone and iPad using video, audio, images and quiz questions. The World Book World of Animals App was ahead of it's time in the fusion of all this media.  As a result the app reached the Top 5 ranking in Children's Educational Apps and was featured by Apple on the home page of the App Store.
Having developed 3 of the first 50 iPhone apps for the launch of the App Store in 2008, Ethervision's roots are in mobile application development.
iPhone & iPad Development

Immersive multimedia functionality and design

Featured by Apple on Home Page
The World Book World of Animals mobile application was ahead of its time fully immersing and teaching kids and parents alike about over 100 animals.  This included videos, many images, questions and sounds the animal makes.  As a result, the app was featured by Apple on the Home page of it's app store and reached the top 5 downloaded Children's Educational Mobile Apps.
If you feel Ethervision would be a good fit for your project and needs, reach out to us. From the very first call you will see why our customers come back to us for more and more work.