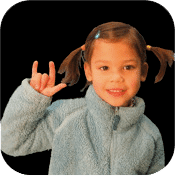 Ethervision and iDev2 are pleased to announce that Baby Sign ASL has been chosen by Apple as a "Staff Favorite" and is being featured on the front page of the iTunes Store!
Baby Sign ASL is a video phrase book of over 200 American Sign Language (ASL) gestures.  Your child can communicate with her hands well before she can communicate verbally.  By teaching them rudimentary sign language, you empower them to communicate their wants, needs and feelings.
BENEFITS TO YOUR BABY
Signing enhances language skills:  On average babies who learned to sign know 50 more words by the age of two than babies who never learned sign.
Signing gives a window into your child's mind and personality.  Slow down and see how he interprets the world well before he can speak.
Signing increases your baby's IQ by an average of 12 points. (Source: Acredolo & Goodwyn)
Signing increases your baby's self-esteem by letting her communicate her needs in ways other than crying.
Signing with your child builds mutual trust and enhances the bond between you.
With over 200 words, BabySign includes everything a baby is likely to see, experience and feel. Categories include feelings, people, bedtime-dressing and food-kitchen among many others.
Signs can be sorted alphabetically or by category.  You can choose favorites, search for signs and test your knowledge in quiz mode.
We are very excited that Baby Sign ASL is getting great reviews and praise from mothers and the signing community.
-Randall