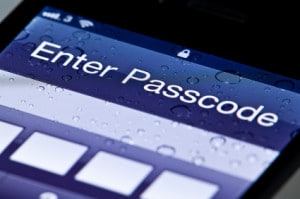 Keep Your iPhone Private and Secure
iPhone Tips Series: Part 1 | Part 2 | Part 3 | Part 4 | Part 5
The iPhone has clearly surpassed the wallet and the keys as the thing you just don't want to lose.  Apple knows this and that is why the iPhone 6 & 5s has fingerprint identification built right into the device.  It is critical that you protect and secure your iPhone pictures, videos and data by tweaking a few privacy settings.  Below are the 4 most important privacy features in iOS you must implement to keep your iPhone 6 or 5 safe.
Learn the tip by reading the text or click the  Title for a full step-by-step video tutorial.

10.  Passcode Lock
 – Nothing is more important and more obvious than putting a passcode lock on your iPhone. Nobody wants to do it but if your iPhone ever gets lost or stolen, that person can see all your personal info, pictures & emails. To set a passcode go to Settings–>General–>Passcode Lock–> Turn Passcode On.
11.  iCloud Backup
 – Let's be honest; Nobody does a wired backup of his iPhone to iTunes anymore. In fact, I can't even remember the last time I even connected my iPhone to my Mac. Be smart and protect all your key data like settings, pictures and app data. You can easily do this remotely and wirelessly with iCloud backup. To turn it on go to Settings–>iCloud–>Backup–>Turn iCloud Backup on.  It's also a good idea to back it up right away.  TO do that, click "Back Up Now".  Now, if you ever lose your iPhone or have to get it replaced you can login to your iCloud account on your new device and restore it with ease.
12. Find My iPhone
 – Now that you have a passcode lock go activate the "Find My iPhone Feature". If your iPhone or iPad ever gets lost or stolen you will be able to see where your iPhone is and you can make your device play a loud noise (so you can find). To turn on "Find My iPhone" feature go to Settings–>iCloud—>Find My iPhone –> ON. Remember to install Find My iPhone App on all iOS devices so if one is lost, you can find it from another.
13. Erase All Data
 – Losing an iPhone sucks but remotely deleting ALL the data will give you piece of mind knowing little Ned's 4th birthday videos are deleted and all your emails can't be read and are out of the thief's hands. To remotely erase all data, open the "Find My iPhone" App and choose the device and click Erase iPhone. You can also lock your iPhone, play a sound or put it in lost mode from this app as well. Pretty handy. If you are ever going to sell your iPhone or give it to someone else, you'll want to completely erase all content before handing it over. To do so, go to Settings–>General–>Reset–>Erase All Content and Settings.
14. iPhone Privacy Settings
– iOS 7 is great for those who want to know exactly what apps are accessing certain private elements of your iPhone such as your photos, contacts and location. To see what apps are accessing your personal info go to Settings–>Privacy and then click on each service (like contacts) to see what apps have their little fingers in your data. From this screen you can easily turn any of them off.